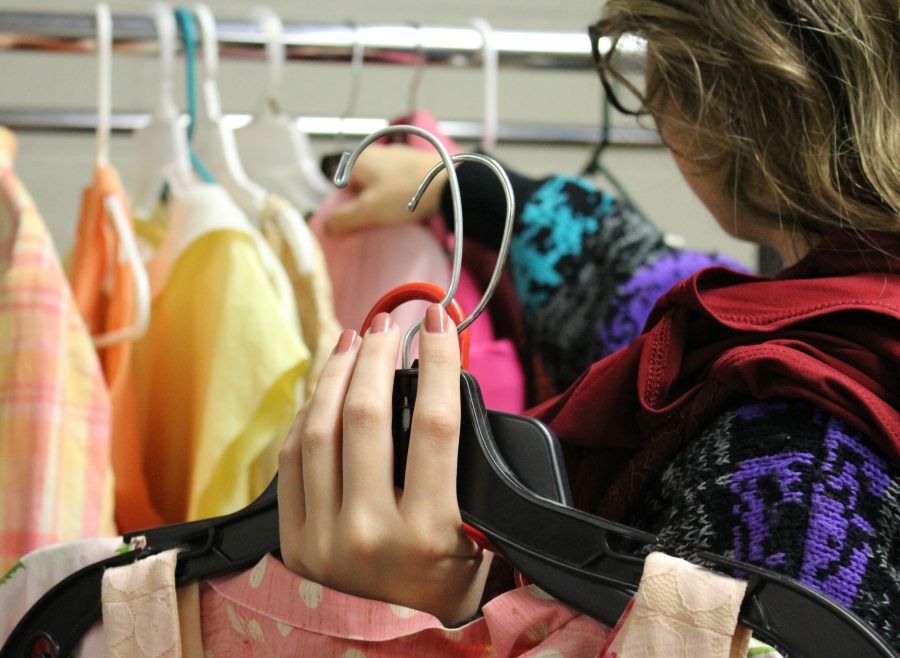 For some, homecoming dress shopping is a nightmare. Just the mention of said shopping trip may conjure images of long lines, dollar signs, and that one mom who must put in her two cents about every dress every girl in the dressing room tries on.
"I don't [enjoy homecoming dress shopping] because it's stressful, they never have my size, and it's always crowded,"  sophomore Anna Oana says.
In hopes of turning that homecoming nightmare into an enjoyable shopping trip, here's a few tips and tricks that have been gathered within three years of high school and homecomings.
Shop at the right times
With school being back in session, it's most convenient to head over to the mall or dress shop on the weekend. This, however, is when the long lines are at their worst, not only at the register, but to get into the dressing rooms as well. So, you must be sure they've grabbed all the dresses they want to try on, maybe even some they don't, because there's no getting back in line for a second fitting without another half an hour wait. Weekends is when most stores have that crowded environment.
This, however, is completely avoidable. It's best to do your shopping right after school, during the middle of the week. Not only will there be little to no lines, but taking various trips to the dressing rooms will be no problem. With so little people shopping on a weekday afternoon, browsing for the perfect dress will be no hassle because no shoppers will be in your way. With such ease while shopping it's easier to have a more laid back and enjoyable shopping trip.
Find the perfect person to shop with
Many people choose to go shopping with friends. While this can be fun and friend's opinions are often valued, it can cause quite a few problems between friends. We all know that one group that was torn apart by two friends wanting to buy the same dress. Homecoming is a time to make memories with friends, not start feuds. That's why it's much easier to shop with your mom, family member, or somebody who's not also looking for a dress. Plus, they're most likely to give you an honest opinion, even if it's something you may not want to hear.
Look for a dress with glam and comfort
Everybody at the dance wants to look fabulous. It's that one time during the year, except for prom, when everyone strives to turn heads and look their best. However, it's important to remember that the perfect dress should be comfortable and allow lots of dancing without any malfunctions occurring. Strapless dresses aren't always the most practical when it comes to this. Although they often look elegant and gorgeous, having to constantly pull it up may prove to be more irritating than it's worth. The same goes for picking out a dress that's too short. Having to tug it down all night will just be a distraction from all the fun.
Smart shopping saves you money
Homecoming does not need to put a big dent in your bank account. When shopping at the right places, finding a dress under $50 is not hard to do. Macy's, one of the most popular stores to shop at for dresses, tends to be more on the expensive end of things, while Windsor has a wide range of prices. Or shopping at resale and thrift stores could prove to save lots of money, maybe even more. Stores such as Cinderella's Closet, Le Boutique, Goodwill, and the Salvation Army provide a selection of dresses for low prices.
Choose a style that shows the true you
Choose what makes you feel confident and what truly matches your personality. Resale shops are perfect when it comes to this because they offer so many unique dresses that it's hard to find two of the same kind.
"[When picking out a dress] don't go with what's trendy, stick to your own personal style,"   junior Natalie Cortez says.
Homecoming dress shopping should be fun and hopefully with these few tips, the stress and horror stories of dress shopping can finally be put to rest.