Lady Gaga killed the superbowl half time show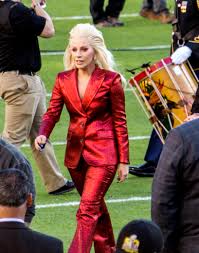 Super Bowl 51's halftime show was exciting and was much more positive than last year's show that latched onto more negative ideas. Things like the police brutality were referred during the show last year. But this year Lady Gaga gave a grand performance eliciting positive energy and creating an energetic crowd.
Lady Gaga has since had a spike in her album sales. She sang hit favorites like Edge of Glory, Poker Face, Born This Way, Bad Romance, and a few others. There was a perfect mix of upbeat and happy songs and a couple more serious songs with a strong message behind them like Million Reasons.
Lady Gaga began her performance with the patriotic song This Land Is Your Land. With all the current political drama, Lady Gaga's choice to incorporate the song brought everyone together. It was a great addition to the show and added uniformity.
Compared to last year's show headlining Coldplay, and featuring Beyonce, Bruno Mars, and Mark Ronson, Lady Gaga blew them out of the water. While last year's show was focused more on politics, this year's was focused on America as a complete country. Beyonce caused quite the stir prior to the show with the release of her music video for Formation and her promotion of the Black Lives Matter movement. People boycotted the halftime show because of it.
Lady Gaga's only reference was her beautiful tribute to America. Standing on top of the stadium, she sang This Land Is Your Land while red, white, and blue drones lit up the sky. The superstar then jumped off the roof. Don't worry, she had a harness on. Lady Gaga descended onto a tall pillar and sang Poker Face. Then she flipped down to the main stage and blew us all away with amazing choreography and a gorgeous voice.   
Her voice sounded phenomenal for someone who took stage diving to a whole new level and made intricate dance numbers look like a piece of cake. While also managing to go through a costume change successfully. Lady Gaga did a magnificent job on this year's super bowl halftime show, and deserves great recognition for it.