In America: A Lexicon of Fashion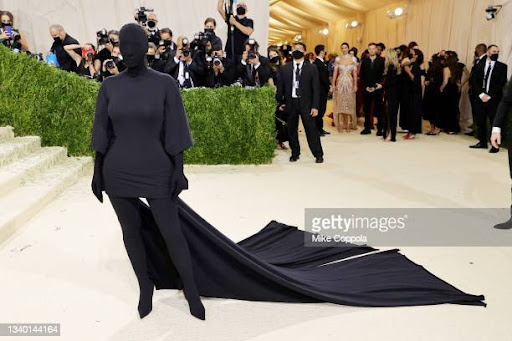 In America: A Lexicon of Fashion was the theme for the 2021 Met Gala. The results were unimpressive and disappointing, as most of the white carpet outfits that stood out were the bad ones. The Met Gala did not live up to its name, from the plain suits to the all-black disaster that Kim Kardashian wore.
Kim Kardashian walked the white carpet of the Met covered head to toe in an all-black Balenciaga bodysuit made by Demna Gvasalia. Many people were left confused about why she chose this outfit and how it fit the theme. I interpreted it as a demonstration of her fame. She didn't need to show her face to be recognized. Her body is highly well-known and is either criticized or celebrated by pop culture in the United States.
Black suits came by the dozen this year at the Met Gala. Justin Bieber's suit was not fitted and baggy in an ode to early 2000's fashion, but fell short and looked messy. Brooklyn Beckham, Ben Affleck, Channing Tatum, and James Corden were also among the others who wore plain black suits.
This year, political statement outfits were front and center at the Met Gala with "America" as the theme. US Representative Alexandra Ocasio-Cortez wore a white mermaid-style dress by Aurora James that had "TAX THE RICH" embroidered down the back. This dress shocked the carpet as the guests she was mingling with that night were mainly millionaires and billionaires. Congresswoman Carolyn Maloney used her dress to make a statement about equal rights for women. The dress was purple, white, green, and yellow, the colors of the suffragette movement. Her dress had "EQUAL RIGHTS FOR WOMEN" written down the sides and promoted ERA (the equal rights amendment), a proposed amendment to the US Constitution.
Camilla Cabello was another celebrity that underachieved with their outfit when she walked the carpet in a purple Michael Kors two-piece dress. The reactions to this dress went both ways, but in my opinion, it looks like a cheap prom dress. It doesn't flatter her at all, and other than it possibly looking" vintage," it doesn't seem to fit the theme. Her fuzzy handbag confused many and made the outfit more of a disaster. 
The Met Gala theme confused not only the designers but also everyone that was anticipating the outfits. Very few outfits fit the theme, and most were a stretch. The best outfits were glamorous but didn't fit the theme, and the worst outfits look like they came out of a thrift store and not high fashion New York. In America: A Lexicon of Fashion was a letdown for the Met Gala, and hopefully, they will be able to rebound next year.