HHS figure skating team enters new season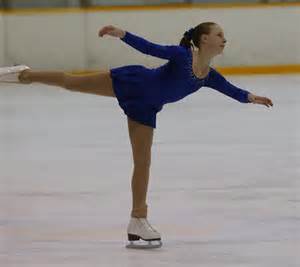 The Howell High School Figure Skating Team is just beginning this year's season's and they have high hopes. The figure skating team so far has 9 members, and is open to any ranges of talent. The group does not just consist of athlete's from Howell. The team Co-Op's with other surrounding schools, they have one team member from fowlerville and one from linden.
The team skates out of Grand Oaks Ice Arena in Howell. They practice once a week, and the attend 3 different competitions throughout their season. This year's competitions will take place in Brighton, Howell and Flint.
The team will break up into a B and C team depending on their particular element.The girls from the team compete and perform in multiple elements such as loops, flips, sit spins, camels, jumps,  a lutz and an axel. During the competitions the skater's are judged against other skater's performing the same element within the District our school belongs to. Currently in Michigan there are 7 districts and the top two teams from each districts will compete against each other at the State Championship in March. At te state championship the skater's are judged the same way in previous competitions.
Head coach Cindy Roth has been coaching the team since 2004. The team was created in 2004 by Roth herself. Roth is no stranger to figure skating in the Livingston County area. She also is the director of the Livingston Skate Club of Grand Oaks Ice Arena.
"I really love skating and so it's nice I can do it and support my school" says freshman Jamie Vartoogian.
This season will be an exciting season for the girls with an influx of new skater's who are all just starting highschool. Six of the girls on the team are freshmen.The freshmen girls have all been skating together for years now, in a skating club.
"We have all skated together since we were about 5, we have done synchro together, a team skate since we were really little. So we are all really close, and I am really excited." Says freshman Ava Hansen. Hansen has high hopes for the upcoming season. Hansen's favorite element to compete in is Jumping.
If you are interested in joining the Howell High School Figure Skating Team. You are able to join until right before the first competition. More info about joining the team can be found at http://hhsfigureskating.weebly.com