Who has the right to die?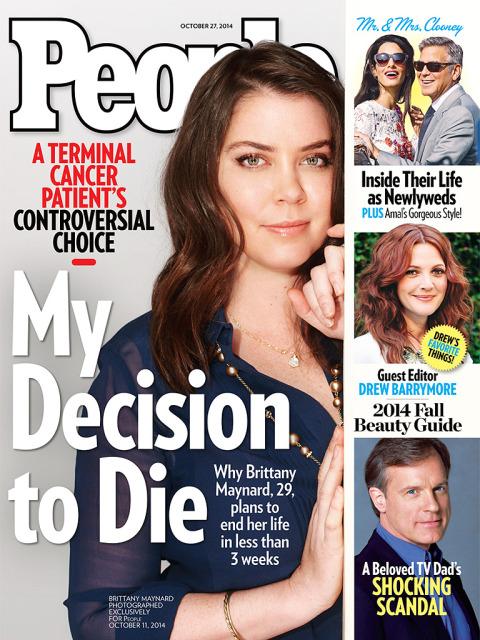 Michael Gottschalk, Staff Writer
November 14, 2014
Should we be able to decide when we die? Do we have the right to die? This topic is now being debated around the nation because of Brittany Maynard, a 29 year old terminal cancer patient who took her own life on November 1st. Maynard became the poster child for the right to die movement, which is for people who are terminally ill and wish to end their suffering on their own accord.
Maynard was diagnosed with a terminal form of brain cancer on January 1, 2014 and was given a prognosis of 6 months to live. She moved, with her family, from California to Oregon to take advantage of Oregon's Death With Dignity law. Her fame grew when she set up the Brittany Maynard Fund, which works to legalize aid in dying, and also when she wrote article for CNN, titled "My Right to Die with Dignity at Age 29." She gained a lot of recognition for her Facebook page.
Currently, there are 3 states in the US that have enacted a Death With Dignity Law. These states are Oregon, Washington, and Vermont. This movement is really not that recent, with Oregon putting their law into effect in 1997, and Washington and Vermont following in 2009 and 2013, respectively.
Why should someone have to suffer for months when they know that they can't recover?  What makes this different than "pulling the plug" on someone in a vegetative state when they signed a power of attorney authorizing family members to do it for them? 
Loading ...
These people do not want to die, but they are forced to come to the realization that their life is being cut short. They seek another option. Not all terminally ill people want to go out on their own terms. Those who choose not to waste their final days in a hospice facility, and have their bodies torn apart even more by treatments like chemotherapy, should not the forced to do so. Nobody has the right to decide how a person spends their dying days. It is wrong to think that someone can make that decision for another person.
A person should be able to have some say in when they pass away, especially when that person knows they won't be able to live with any dignity during the progression of the illness. They should not be forced to endure immense pain for the rest of their days because of a law restricting their choices.
It is hard for us to fathom what terminally ill people are feeling. We try to push these awful thoughts out of our mind because they are too painful. But the fact of the matter is that these people suffer, and who are we to tell them how they should go out?