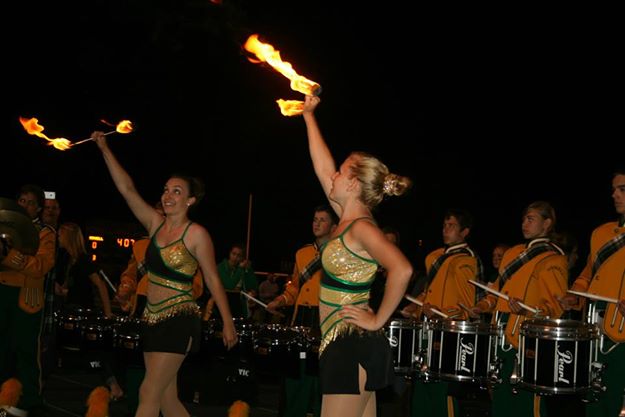 Twirling and catching batons is no easy thing, but junior Emily Coan has no trouble doing that and recently showed off her talent at Nov. 29th's Miss High School Majorette competition. She started twirling after her mom brought home three batons from when she twirled in high school. Out of her three sisters, she was the only one who liked it and has stuck with twirling for six years.
"The most difficult thing is the injuries. You get hurt and hit a lot," Coan says. "But you meet a lot of great people and I have an awesome coach."
She has spent countless hours over the last six years for some 30 plus competitions. Each year, she spends around a $1,000 for costumes, shoes, batons, lessons, teams, competitions fees, and much more to twirl. For she and her teammates, they pay for everything out of pocket.
"Some costumes are $600 or more for us. I don't spend that much, but I know people who do," Coan says, "It all adds up throughout the year, but it's worth it every year."
She twirls with Limited Edition baton team, alongside 30 other twirlers and also for Howell High School's Marching Band. She has been apart of Limited Edition for six years, and marching band for three. Her coach for Limited Edition is Tammy Albrecht, and her coach for HHS Majorettes is Kayla Dillon.
"Emily showed great strides and promise after taking her on as my student. Because of her bubbly, kind, passionate personality, she has always been one of my most entertaining and fun students," Dillon says.
Dillon herself is a HHS Alumni twirler and has been twirling for 11 years. She has known Coan for six years, and has been her coach since she was in seventh grade. She started twirling when she wanted to find her passion and twirled through her high school career. Dillon became the coach for HHS after she graduated with high regards when they didn't have a coach or twirlers. She has been the coach for six years.
"I won the Miss High School majorette title my senior year. I have high regards that Emily will take the title as well," Dillon says.
Coan had been preparing for the Miss High School Majorette competition for three months and did well at it, ranking  fifth out of twelve placings. Her fellow teammates and family cheered her on and she had a "more unique performance than others," Dillon says.
"People misjudge twirling. It's kinda like cheerleading; it's diminished and isn't credited enough," Coan says.