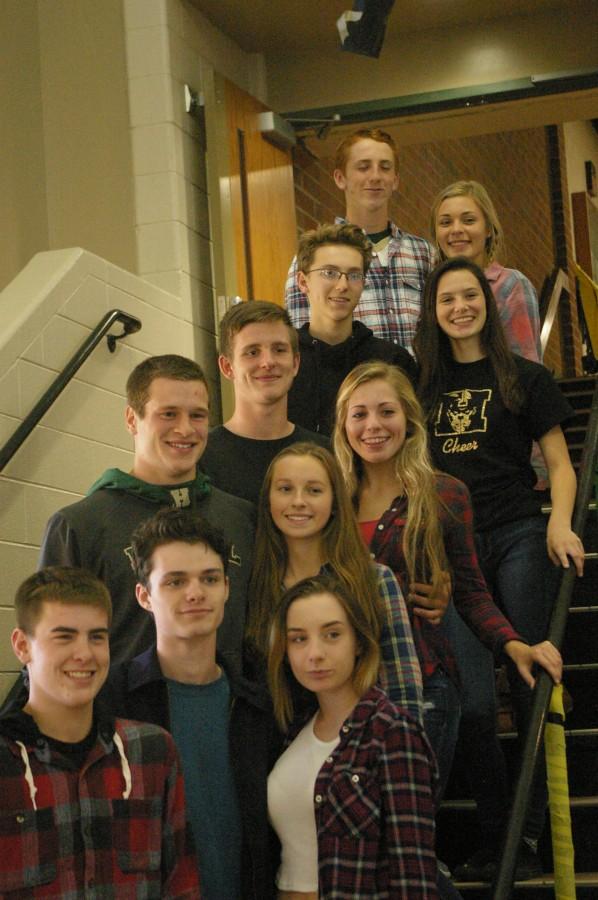 It's a tradition that high school's around the country have been doing for years, each grade votes during the week, of the highly anticipated Homecoming football game, for the guy and girl they think will best represent their class as that year's prince and princess. Then at the end of the week the final King and Queen are chosen based on the most amount of votes. This year's senior Homecoming court is composed of Highlanders with hobbies varying from music, volleyball, eagle scouts, and even fire twirling.  
Alex Adle and Nick Drake were very surprised to find out they were one of the three coupled finalists to be on the Senior Homecoming Court.
"I really think it is because I have a variety of friends from different groups around the school," Drake says.
The couple have been dating for two years this coming January and enjoy going to concerts together like Lana del Ray and other Indie Pop groups.
"I've never really been the center of attention for a school event like this, so I am pretty excited to get all dressed up and have fun," Adle says.
When the couple was asked one word to describe them Drake replied with "classy," and Adle with "classier than Nick".
"We are very grateful to be a part of such a big event and I am so honored," Adle says.
"Vote team Hotline Bling", senior couple Alex and Nick say.
Seniors Jake Rossman and Emily Coan were also shocked when hearing the news that they had been selected for the 2015-2016 Homecoming court, considering that Coan is dating somebody else and Rossman had intended on being voted on with one of his closest friends.  
"I think the only reason I really got on is just because people know me as the girl who twirls fire," says Emily, who has been a talented baton twirler for the school's marching band since her freshman year.
"At first it was kind of a joke about me being on Homecoming court but the we got serious about it and actually really wanted to be on since it's senior year and thought it can only happen once so why not," says Jake.   
When asked one word to describe each of them Jake said "Rossman" and Emily replied with "Energetic".
"We are gonna take home the gold, so go Team Fire!" Emily and Jake say.
Seniors Joe Senecal and Ellie Grifka have been dating for two and a half years and are overjoyed to be on the 2015 senior homecoming court.  
"The part I am most excited about is walking out on the field in a dress with Joe, it should be really fun!" says Ellie.
Senecal, however, has a different outlook.
"I'm not really much of a dancer", says Joe, "I just go because it makes Ellie happy!".
When asked one word to describe each of them, Joe said "calm," while Ellie replied with "nice".  
"We are very honored and happy to be on court this year", both Ellie and Joe say.