SAVAGE MODE II: Not So Savage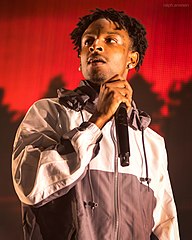 On Fri, Oct 2, the highly anticipated 'SAVAGE MODE II' was released. Savage later released his debut studio album, "Issa Album" in 2017, and followed up with "I am > I was" in 2018. Trap producer Metro Boomin released his debut project "NOT ALL HEROES WEAR CAPES" in 2018, featuring 21 Savage on songs "Don't Come Out the House" & "10 Freaky Girls". 
On Monday, September 28, 21 Savage announced 'SAVAGE MODE II' on his Instagram page. Fans were incredibly excited with the announcement. The latest release from either of the artists was 2018's "I am > I was". 
Narrated by Morgan Freeman, 'SAVAGE MODE II' consisted of 15 tracks, including features from Drake, Young Thug & Young Nudy. Standout track 'Runnin' mentions his experiences with living a wealthy lifestyle with lyrics, "I know she around for the money, but act like she loyal, I don't feel the love" from 21 Savage. 21 Savage later mentions his roots to his city, Atlanta, writing "Big facts, 4L… Big Zone 6." 21 Savage is known for rapping about his wealth, as he writes, "Rags to riches…came from the bottom." on his 2017 song "Famous". 
'SAVAGE MODE II' currently holds the top four spots in the Apple Music highest charting songs, as well as being the #1 Album on the app, outselling Bryson Tiller's third studio album 'A N N I V E R S A R Y' in the 1st week by a margin. According to 'hypebeast.com', "the esteemed project will garner somewhere between 170,000 to 195,000 equivalent album units with 14,000 to 17,000 in album sales."
21 Savage is a highly regarded rapper of the last decade, and his performance in 2020 shows nothing different. Metro Boomin is in the same reputable discussion as well. An article from 'DJBooth.net' displayed Metro Boomin among legendary hip hop producers 'El-P, MF DOOM, Madlib & Q-Tip' as being some of the greatest music producers of all time. with hits like 'Ric Flair Drip', 'X (feat. Future), and 'No Complaints (feat: Offset & Drake)', Metro Boomin displays his wide variety of talent while producing for popular rap artists. Rap duo 21 Savage & Metro Boomin's 'SAVAGE MODE II' found large success in their October 2nd release.
Although the album had great commercial success, I personally did not enjoy the project. Tracks 'Mr. Right Now', 'Brand New Draco', & 'RIP Luv' had sloppy, non-energetic production from Metro Boomin's part. 21 Savage didn't have any notable lyrics on the entire project, and his flow was bland. In my opinion, the album didn't have any qualities that stood out, and did not experiment or break any barriers in the music community.