Chiefs meet their match on Dukes field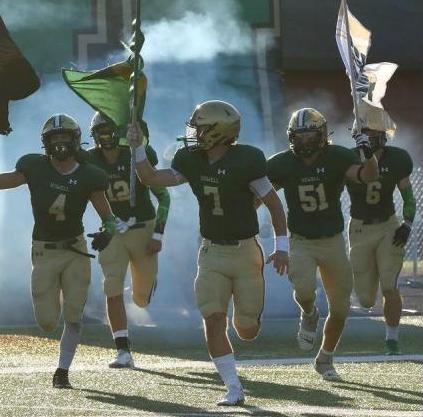 Photo Credit: Sharyn Tormanen
Spectators of last Thursday's varsity football game could say that the Highlanders were unstoppable in their game against Canton with a final score of 41-21.
"Everyone played their hardest they could on every single play and … left it all out there," Senior Quarterback Nolan Petru said. 
Before the game, Petru said the team was excited to play Canton and was eager to face a top team. Canton placed first in the KLAA West last year, making them one of the best teams on the schedule.
"We executed some plays and our offensive line did a phenomenal job up front creating some big holes and being physical, and setting the tone for the rest of the game so that was really nice," Head Coach Brian Lewis said.
While the win against Canton could give the team a boost of confidence, Ramonitis is sticking to the week-by-week mentality. The Highlanders have higher expectations for themselves than just one big win. 
"We're just going go in each week, week by week focusing on each team, obviously Canton was a good win but we have to focus on the next one," Ramonitis said. 
Ramonitis and Petru attributed Thursday's victory to the extensive preparation in the week leading up to the game. 
 "I thought it was one of the best practice weeks we've had in the last two years. We are excited to watch the rest of the season unfold," Ramonitis said.  
Coach Lewis knew the challenge that Canton presented but trusted his team's toughness and playstyle. 
"We knew it was gonna be a battle of toughness, we talked about that all week, our kids rose up to the challenge, so as far as the game plan goes we try to play our brand of football, our style of football," Coach Lewis said.
The matchup against Northville will bring new challenges to the Highlander's quest for victory Coach Lewis also spoke on next week's matchup against Northville and the new challenges they present.

"Staying focused, staying engaged like we've talked about. Going into Northville they're a good team, it's a different challenge…we're trying to stay focused, stay on our mission, our task, worry about us, worry about what we gotta do and they still gotta come play us too so we're excited about that," Coach Lewis said.