Howell Dominates In Revenge Game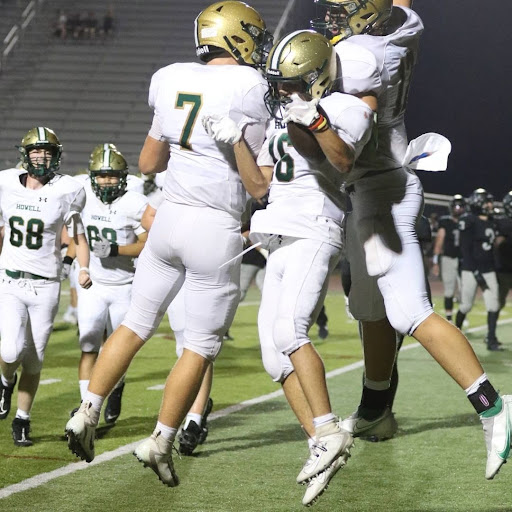 Last Friday, the Howell Highlanders football team traveled to Plymouth Canton Educational Park in a long awaited rematch against the Plymouth Wildcats. Howell Head Coach Brian Lewis returned to Plymouth after previously coaching there for two years, adding a little more meaning to the in-conference matchup.
Both teams were scoreless through the first quarter. But Howell's senior wide receivers Ashton Hill and Jackson Kovarik had huge second quarters, putting up two touchdowns each. Kovarik totalled 152 receiving yards to go along with the two touchdowns, including a 62 yard bomb from quarterback Nolan Petru. 
"We've just been practicing all week and I knew I had to step up with August [Johanningsmeier] and Noah [Ramonaitis] out," Kovarik said.
Hill also caught a deep bomb from Petru, tallying up 51 yards and a 40 yard pick six to put the Highlanders up 28-0 at halftime. 
"We were all pumped heading into the locker room but we knew we needed to stay locked in because you never know what's going to happen," Hill said. 
Howell continued their dominance in the second half, en route to a 58-0 victory. With their third shutout in four games, it could be that the Highlanders' defense is the best they have fielded since their 1955 team that began the season with five shutouts, and finished with eight. Junior running back Cole Quattlander played a large role in the victory, replacing top running back August Johanningsmeier. Quattlander had 15 carries for 80 yards and a touchdown.
"That's just a testament to Cole and his hard work you know, he's done a really good job all offseason getting prepared for that moment and when that moment came he seized it, and we had some explosive plays on the outside, got some guys a little bit more involved so that was really good to see," Howell head coach Brian Lewis said.
Claiming their second ever victory against Plymouth, and their fourth straight win to start the season, Howell has put themselves in a great position to win the KLAA. While it must've felt good to beat his former team, Coach Lewis was more excited about his team taking care of business the way they did. 
"I was more excited just about us staying on our path and us being 4-0 so, more so than anything else, it was about us going into an opposing team's house and taking care of business the way we did," Coach Lewis said. 
Picture Credit: @howelltormanen on instagram