HHS choir students come together for charity
We are the world, We are the children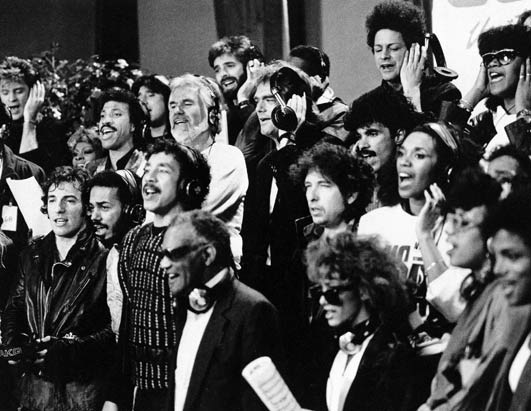 Even in a small town like Howell, there are plenty of ways to give back to society. On Sunday, May 18, A Cappella members from Howell High School will be recording their own version of the well-known song, We Are The World. They will be creating a music video at PegLeg Studio and will be selling it for $10 in order to raise money for the Save The Children Foundation. Senior Cassie Bondie organized the event, bringing the 18 students together. She has envisioned doing this since freshman year.
"When I asked a bunch of seniors [as a freshman] who had no idea who I was, nobody wanted to do it. So, that didn't happen," Bondie explains. "But I was walking through Meijer and talking with my dad about my one last project in high school, something I'd be proud to go out with, and it just kind of occurred to me, hey, I can do this. Let's do it. My next call was to Keith Hutchins, my co-director. And after that, it just kind of happened."
We Are The World was written by Michael Jackson, Stevie Wonder, and Lionel Richie in 1985, and was then recorded by approximately 50 celebrities. The song sold millions of copies. The proceeds went to USA for Africa, a foundation created to help starving children in Africa. The video has been viewed and cherished throughout the world for almost thirty years.
Bondie has arranged for a professional videographer to come to the studio while the students are recording, just like the original video.
"The videographer, Lindsay Root, was actually on the original Main Four staff," Bondie says. "He even gave the Main Four its name. I interviewed with him recently about an article I wrote, and he was my first contact when I realized I would need a talented videographer."
"I think it's a great cause and I think it will be awesome to raise money while singing," senior Keith Hutchins, co-director of the group, says. "This song is iconic for what they did with it before and I'm grateful to be part of a sort of 2.0."
Bondie knows exactly how challenging it will be to live up to the high standard of the piece.
"Keith and I sat down and tried to figure out who we could trust with something like this," Bondie says. "It takes a lot to do the song justice."
The group will be selling the DVD's of the music video all over Livingston County and is hoping to donate at least $1,000 to the Save the Children foundation. Senior Logan Tesmer is motivated to sell them to help those in need, and appreciates the connection the project has to music.
"We're all one person when we come together in song," Tesmer says. "I think it's really important to show people what we're capable of. We are using our music and our talent for something that can be good for our community or other people in other countries."
Junior Maggie Grace has known Bondie for the past year through choir and drama, and is excited to be working with her now.
"Cassie Bondie is a Saint for putting all of this together," Grace says. "She saw an opportunity to give Howell and our generation a better image and she took it. She is a truly amazing individual."
The message of the song means something to everyone, and Hutchins, along with other A Cappella members, is truly inspired.
"I'm so excited to get in the studio and record with some very talented people," Hutchins says.
"This song is about unity, and everyone putting differences aside to come together," Grace says. "I think the song is so powerful because people our age are quick to judge things and people they're not familiar with. This project is to show students that we ARE the world. We are the next generation of leaders and dreamers."
[youtube http://www.youtube.com/watch?v=OoDY8ce_3zk]