Powder Puff recap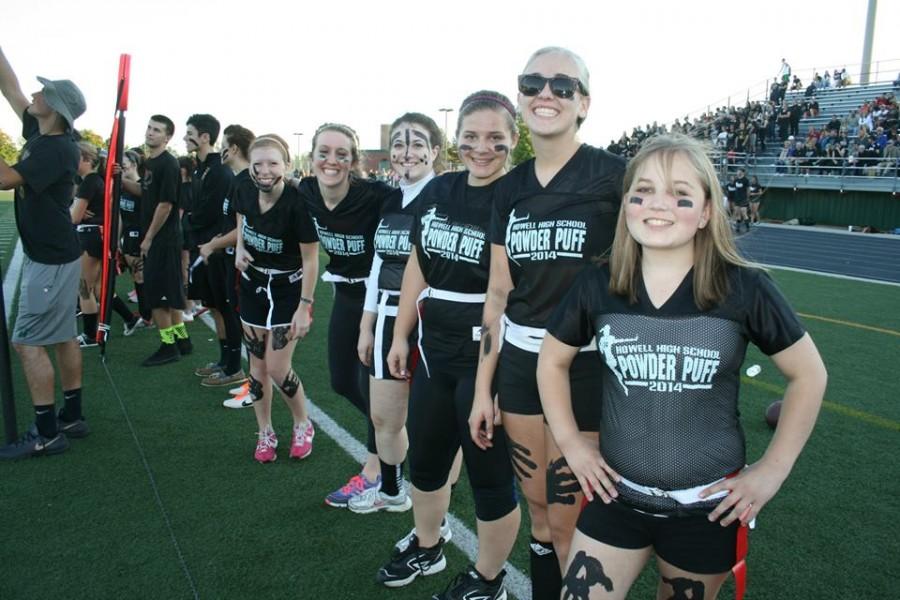 Michael Gottschalk, Staff Writer
October 6, 2014
Last Wednesday, September 24th, the annual Howell Powder Puff games and cheerleading took place. In a stunning upset, the sophomore girls took the championship win against the seniors.
The games started with seniors vs freshmen. The game started off well for the freshmen, who scored on their first play of their first drive, but failed to convert the two point conversion, making the score 6-0.
The seniors scored on their first drive, taking the lead 8-6. The seniors then intercepted a pass on the next freshmen drive, before scoring again, increasing their lead to 15-6 as the half ended.
Halftime brought the performance of the freshmen and senior cheerleaders.
The second half brought two more senior touchdowns who won the game 29-14.
Game 2 pinned the juniors against the sophomores.
The first half was full of turnovers from both teams with the juniors intercepting 3 passes and the sophomores intercepting 2 and forcing a turnover on downs.
Eventually the sophomores were able to tack on a touchdown taking a 8-0 lead into the half.
The sophomore defense took the field to start the second half and forced a junior turnover on downs. The sophomores capitalized on the turnover punched in another touchdown, taking the lead 14-0.
The sophomores were able to take the game 14-0 after a late interception. The final game of the evening was the winner of the first game, the seniors, versus the winners of the second, the sophomores.
The seniors opened the game strong, scoring on their first possession and taking the lead 6-0. They followed up their good offense with good defense and stopped the sophomores with an interception. The seniors took their lead into halftime.
After the intermission, the sophomores tied the game 6-6 with a touchdown. They kept their momentum going on the seniors' next possession with a sack and forced the seniors into a turnover on downs.
The score was knotted for the rest of the regulation, so an overtime period followed. The sophomores got the ball first to start overtime and scored a touchdown, taking their first lead of the game 12-6.
The seniors followed with a touchdown of their own, making the score 12-12 and forcing a second overtime. The sophomores also had the ball first in the second overtime and took the lead 18-12 with a touchdown.
The seniors were given another chance to tie and force a 3rd overtime. After a few plays, the seniors threw an interception, ending the game and giving the sophomores a 18-12 upset victory over the seniors, the first senior loss in several years.
When asked how it felt to beat the long-undefeated seniors, sophomore coach Joey Gossett replied, "I mean it felt good, beating them, they haven't lost in 7 years, and coaching against the guys I know from football, beating them was great."