Swimming into the record books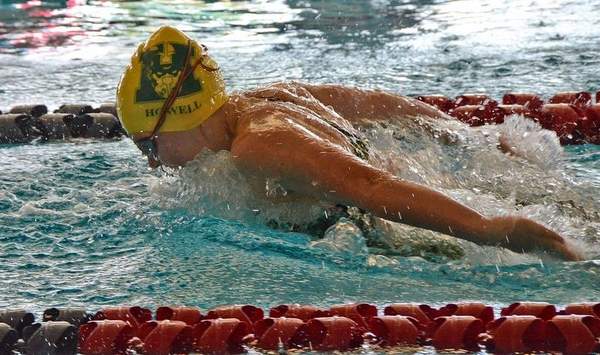 A.J. Firsht, Staff Writer
December 3, 2014
The splashing of the water, the roar of the crowd and one girl who will leave a mark on the school. With one recorded breaking sprint, senior swimmer Sydney Kinder found herself on top of the record book.
"Swimmers are some of the laziest people you will ever meet outside of the pool but when it comes time to dive in the pool we work extremely hard all the way until the end", Kinder says.
This past month Kinder beat the girls Howell Varsity 100 meter  fly record. The record was previously held by former Howell High School student, Natalie Stone. Kinder beat Stone's record by two hundredths of a second.
"I was so close to beating the record last year, it killed me all offseason to try to get better. After lot of hard work and practice, I finally achieved my goal to leave my mark on this school. Beating the record was the best feeling in the world," Kinder says.
Kinder has been swimming all her life for the city of Howell. Going into high school was a big transition for her because of the change in coaches. Mark Swesso and Kristyn Textor had the hard challenge of take on Kinder as a swimmer.
"Kinder was a great swimmer right out of the gate. I'm so proud of her and every accomplishment that she has achieved. She has a bright future ahead of her and I wish her luck as life goes on and I'm hoping that she does well at whatever she puts her mind to," Coach Mark Swesso says.
Kinder was very young when she was introduced to swimming. Her father Eric Kinder was the one that showed her how the sport and he has been pushing her ever since. When Kinder beat the record, her father was the first one there to congratulate her on the big accomplishment.
"My dad by far has been one of my biggest supporters. Ever since I started swimming he has been there for me. The best memories I have of him is every time I step up to race, there is a small moment right before the horn sounds to start the race, my dad at the top of his lungs screams 'Lets go Kinder.' I love the fact that he cares about me so much," Kinder says.
Being all county and making it to states multiple times, Kinder now is undecided as to which school she will be attending next year. Kinder plans on studying anesthesiology or biomedical engineering. The biggest thing that she wants to do is succeed at everything she does.
"I set my goals at such a high standard. I love the feeling when I complete one of my goals. The next couple of years are gonna be tough but I can't wait to take it head on. Swimming has been there for me my whole life and I hope it will stay with me my whole life."