Shakespeare hits the HHS theater this spring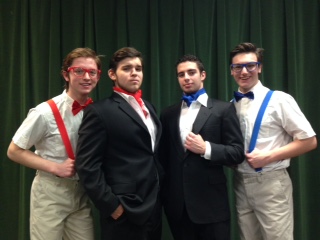 Twins, magic, Shakespeare and more is in this year's production of the Comedy of Errors. Drama teacher Amanda Malo and '08 alumni Annie Dilworth, will be co-directing this year's production.
"I do a Shakespeare play every four years to give an opportunity to students to experience his work," Ms. Malo says.
For the first time, a play will be performed in a round. This is where the audience sits on the stage around the performers during the play.
There will be five performances on March 20th-22nd. The four main leads will be senior Sam Perkins (Antipholus of Syracuse), senior Evan Webster (Antipholus of Ephesus), junior Drew Laughner (Dromio of Syracuse), and junior Lou Bisio (Dromio of Ephesus).
"This a comedy, a farce. I've never done this play before and look forward to it." Malo says.