Shakespearean play coming to HHS this spring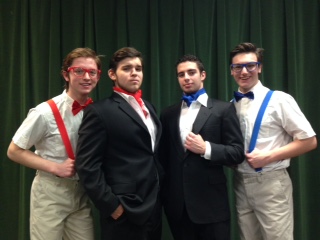 Every four years, Theater Director Amanda Malo brings the community members of Howell a Shakespeare performance. This year's specialty play is "Comedy of Errors." This Shakespearian journey is the tale of two brothers separated at birth, trying to find their way back to each other.
Howell 2008 alumni Annie Dilworth will be assisting Malo as co-director in the "Comedy of Errors."
The play will be held March 19th, 20th, and 21st at 7:00 p.m., and March 22nd at 2:00 p.m. All shows will be performed at the Howell High School Auditorium. Tickets will be sold for $10. They are available at Parks and Recreation and at Howell High School's main office.
On March 18th at 5:00 pm, there will be a specialty price. Tickets will be sold for $5, because they will be taping the performance.
Comedy of Errors is Shakespeare's shortest play; Malo's goal is to get the play to about an hour and 10 minutes. There will be no intermission. Also, one other different element about this play is that it will be performed "in the round." This means that the audience will be sitting on the stage with the actors in a circle. Each audience will hold 200 people.
This remarkable and unique farce will not disappoint the viewers.
"People have a preconceived notion of Shakespeare- that he is incomprehensible, and stuffy. But, if you come see this play you will be pleasantly surprised," says Malo.