Taking a look back at Howell's 2015 fall sports season
As winter sports begin and fall banquets come to a close, we have put together a series of stories to recap this 2015 fall sport season.
Women's Volleyball
The lady Highlanders went 5-6 overall this season and finished second in the KLAA consolation tournament. In the playoffs, the volleyball squad lost to South Lyon, ending their season and placing them fourth out of six teams in the district.
"It's really cool to be apart of the new Howell volleyball program where we are actually getting wins and increasingly getting better with each year," senior Ellie Grifka says.
Boy's Soccer
This season for the Howell soccer team was a bit of a rebuilding one. The Highlanders finished this season with an overall record of 6-8-3 and finished fifth out of six teams in the KLAA West with a divisional record of 3-5-2. In the MHSAA State playoffs, Howell fell to rival Hartland, 4-2, in an overtime loss to end the season.
"It was more of a rebuilding year for us because we have a young team with a lot of sophomores that come into the game. I think that we underachieved, we could've done much better in our tournament but sadly, we didn't," senior captain Josh Libler says.
Boy's Tennis
The men's tennis team finished this season with a 3-8 overall record while finishing fourth in their division with a record of 2-3 in the league. In the Kensington Lakes Activities Association B, the Highlanders finished tied for fourth.  
"We all learned a lot and improved our skills incredibly. This year for me was the closest I've ever got with the team. We really came together as one," senior Brendan Hauk says.
Football
After starting 4-0 for the first time since 1978, the Highlanders went 5-5 overall this season. They finished third in the conference with a 3-2 conference record. The team made their first playoff appearance since 2012 and lost to Grand Ledge in the first round. 
"I am glad I got to get one more shot and opportunity with my teammates to get a playoff win. That is something really big for our program," senior Jake Macey says.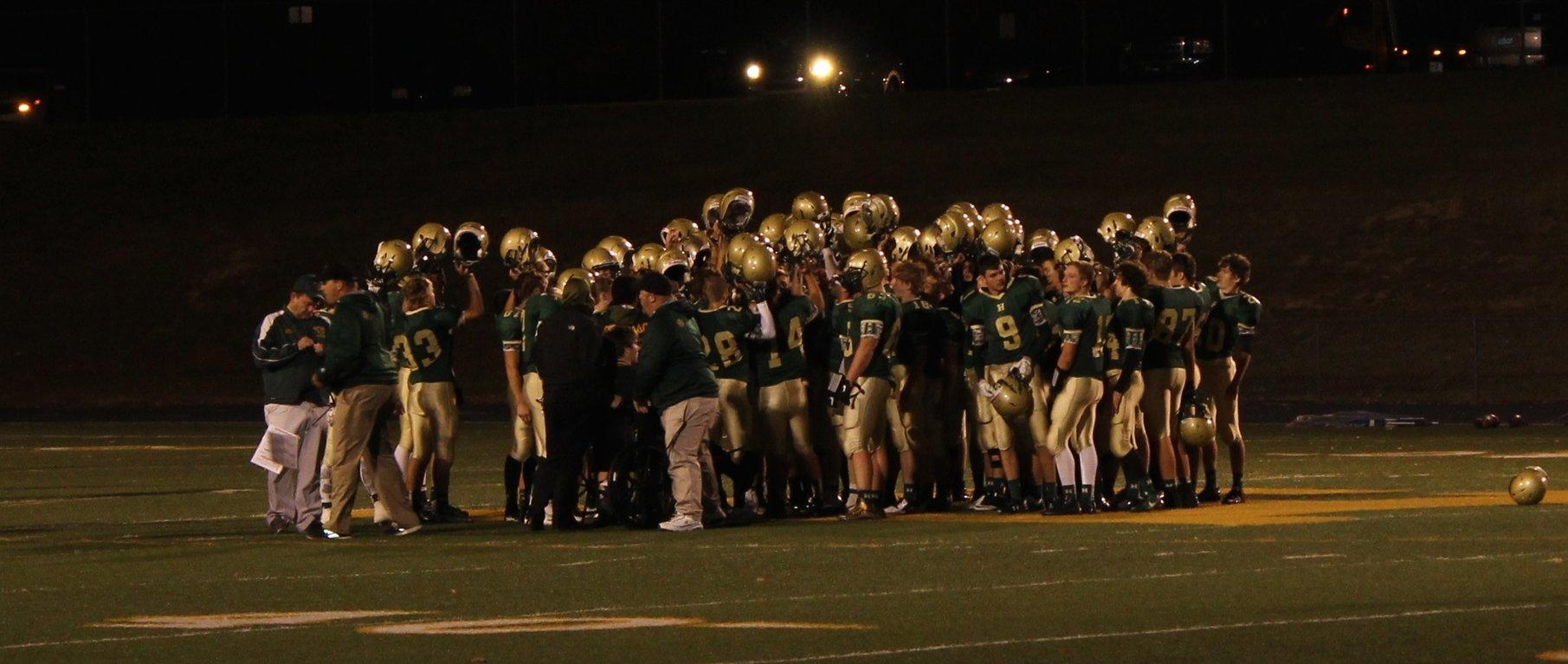 Boy's Cross Country
In boys cross country, the guys won two meets this season, against Grand Blanc and Brighton to go 2-3 overall. They fared well in many invitationals this year, obtaining third in their class at the Coaching Legends Invitational, fifth out of 38 teams at the Greater Lansing Invitational, second at the South Lyon Invitational and an eighth in the KLAA Conference Tournament. 
"We have a great group of guys who consistently train hard, motivate one another, and perform to the best of their ability on race day. The team is a family and I'm grateful to have been apart of it," senior Eric Mettetal says. 
Girl's Cross Country
It was a rebuilding season for the lady Cross country runners with Stephanie Bruce in her first year as the head coach. The Highlanders went 0-5 in dual meets this season. With much young talent on the roster, the Highlanders placed second at the the Freshman-Sophomore Postseason Invitational. The girls also placed sixth in the Regional to end the season.
"Seeing that there were four total upperclassmen, we didn't do too hot this year. We had a new coach and a very young team since most were freshmen and sophomores. With that said, we have a very high ceiling, " senior captain Holly VanGordon says.
Girl's Golf
The women's golf team were very happy with how the season went. With an overall record of 2-3 in dual meets, the Highlanders won against Milford and Pinckney. They placed well in many invitationals throughout the year including a 12th place finish out of 24 teams in the KLAA Association Tournament.
"We did very well. We won most of our matches and cross overs and even placed high in tournaments.  We also had one girl who was strokes away from going to states," senior Maggie Mitter says.
Girl's Swim and Dive
Although the Ladies swim and dive team was only 1-4 in dual meets, they are considered by many to have had a very good season. At the division meet, they finished fourth, and at the conference meet, the girls finished fifth out of 11 teams in which the team dropped a total of 1:49.03. The Highlanders are sending two girls to the state meet. They are Sophie Montesanti, who will be swimming the 200 Freestyle and the 500 Freestyle, and Kylee Savage who will be swimming the 200 Individual Medley and the 100 Backstroke.
The 200 Medley Relay and the the 200 Freestyle Relay both missed the state qualifying cuts by .04 seconds. Annika Bekkala who swam the 100 Breaststroke missed the cut by .36 seconds. States are being held at the Holland Aquatic Center. Prelims will be Friday, November 20 and finals will be Saturday, November 21.
"My favorite part was probably the conference meet. The energy was high and I never saw one of our girls without a smile on their faces. The conference meet is the great pay off and is what we have worked for all season," Savage says.