What not to do over Spring Break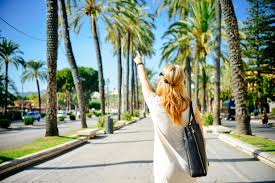 While Spring Break may be a time for relaxation, it's important to remember the wise words of former Howell High School teacher Mr. Mark Oglesby: "Make wise decisions with the only life you have."
Spring Break 2k16 is right around the corner, and some students couldn't be more excited about the time off and being able to sleep in and relax. Spring Break this year is March 25 to April 4 and provides the usual week off to students.
If you plan on going away over the break do not schedule your trip with a sketchy third party travel agency. Third party agencies are notorious for sending customers to dirty hotels located in unsafe cities. If you do choose to use a third party agency, you may think it's a good idea to pack a weapon to protect yourself; it is not. The hard working TSA employees will not take too kindly to that and may even think you have ill intentions.
Although you cannot bring that type of protection onto an airplane, you might want to consider bringing other kinds. You want to be sure to get above SPF 50 for the full protection against the harmful UV rays. You should also be sure to pack for any possible spontaneous adventures. This can include things like spelunking gear, scuba gear, fingerless gloves, and flat soled shoes. You never know what you might be doing in the wild vacation spots. However, try to keep it under fifty pounds so you can keep it as a carry-on and dodge the additional luggage fees. You will undoubtedly need that extra cash on the trip.
No matter where you go, there will always be keepsakes you want to bring home to brag to your friends, "Yeah, I went there." Stores know this too, so things tend to be pretty pricy abroad. Make sure not to spend all the money on the first day; if you're getting mugged and have no cash, things may not turn out too great. To decrease the risk of mugging, make sure you don't travel by yourself: bring a friend. As your kindergarten teachers would surely agree, the buddy system is great in these types of situations.
When traveling with said buddy, make sure it's not someone you don't enjoy. Don't take a vacation with someone you low key don't like. When you have to hang out with someone you do not particularly like, conversation becomes tiring and fake. Enjoying a vacation with them will be excruciatingly hard. It'll lead to many eye rolls and an overall unpleasant experience.
On vacations you will meet many interesting people. These random interactions can lead to new friendships and adventures, but make sure not to get attached to someone and find yourself having feelings for them. Sooner than you could ever imagine, you're in love. That is not something you want  to happen while on Spring Break. Long distance relationships never work.
Don't be afraid to try new things. Always be open for new adventures like skydiving, parasailing, bowling on the beach, boxing, and many more. Unless the person inviting you is a sketchy guy leaning against a pole wearing a tilted fedora and trenchcoat while flipping a quarter. If for whatever reason you decide to go with the guy, you'll probably have a good story from it to tell everyone back home. Hopefully you'll still have both kidneys while telling the story.
The sad reality is that not everyone gets the chance to go on some crazy vacation over the break, but no matter how gloomy the weather might be in the great state of Michigan, it's still possible. Whether you believe it or not, you can still have a great time. First step: try not to be constantly checking social media. Seeing everyone's Instagram beach pics and #blessed tweets won't make you feel any better. Second step: make sure you're not just sitting around. Make some plans; other people are stuck here with you too, and it always helps to have someone else to get into some fun shenanigans and hijinks with.
Even if your home is right across the street from your school, it is so important to not think or fret about it because you're on Spring Break and deserve to be relaxing inside the warmth of your own home. There are still many things you can do while at home. For instance: Netflix. You think those suckers in the Caribbean have good internet? No. You can binge watch the new season of Always Sunny in Philadelphia to your hearts content while they're stuck with data roaming charges.
No matter where you go, or don't go, it's of the utmost importance to never do one thing: stress out. Spring Break is meant to be exactly that, a break. So make sure you spend time with friends and family and have a good, safe, and memorable vacation.