To the pointe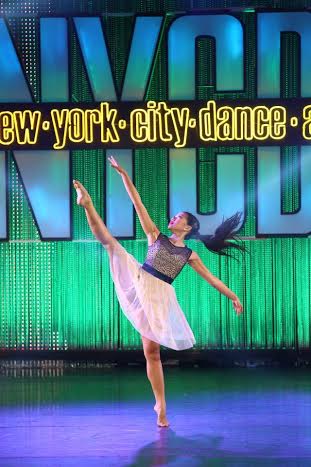 Some kids may choose to hide their talents, but these incredible dancers are not afraid to show it off! Dancers from Howell High School are getting the spotlight for the time being. One thing's for sure, their dancing is on "pointe".
Freshman, Alison Bloomquist dances for PADT at Glenn's School of Dance. She has been dancing for 13 years, and has made many friends that she dances with. During her dancing career she has received six scholarships at dance conventions, one of those include the Outstanding Dancer at NYCDA. She plans to dance in college, but not as her full time career. She dances because it's a way for her to let things go. She also uses dance as a stress reliever.
"I love it, I've loved dance for forever,"  Bloomquist says.
Sophomore, Jasmine Brause dances for Maria's school of dance competitive team. She has been dancing since she was two and a half  years old, and she is currently 16. Her greatest achievements are first runner up and first performer at Access Broadway in Troy, and she has also been nominated for best senior out of six in her age group. She dances to have fun and do what she enjoys. She's inspired to dance because of the little dancers.
"They look up to me", says Brause, "It's cool to see the next generation of dancers."
Sophomore Aiden Pressel dances for PADT at Glenn's School of Dance. He has been dancing for 4-5 years. He has received Outstanding Dancer at NYCDA and Elite Dancer at WCDE. Elite Dancer is similar to the Outstanding dancer award, except it's won at the West Coast Dance Explosion (WCDE). Pressel is also top 6 in the nation for guys from ages 13-15 years old. He dances because he feels it is the only way for him to express everything he is feeling. His biggest inspiration while dancing is Andy Pellick.
"We are both former gymnasts, so we both have the same style of dance,"  Pressel says, "I really look up to him and he's fun to work with."
Senior, Cailin Ferguson dances for PADT at Glenn's School of Dance. PADT is a company called the Performing Arts Dance Theatre, at Glenn's. She has been dancing for 12 years. She has received Outstanding Dancer at NYCDA. NYCDA stands for New York City Dance Alliance. The Outstanding Dancer award is an award given to dancers in their age group at the NYCDA regional competition.The award gets them scholarships to go to nationals.  She is very inspired to dance by her dance teachers.
"Dance makes me happy and I like it,"  Ferguson says.
Alumni from 2014, Kathleen Laituri danced for Performing Arts Dance Theatre for nine years, but currently attends Pace University in New York. She is a freshman majoring in Commercial Dance. She has been dancing for 16 years. She has been given the honor of being one of the National Top Ten dancers at NYCDA. She has also had the opportunity to dance in benefits for the NYCDA College Scholarship Foundation. She is inspired by her teachers and peers at Pace University. The atmosphere she dances in is very positive, and everyone is so supportive. She dances because it has helped her become the 'best' she can be.

"There is so much more to be learned than steps,"  Laituri says, "I've learned what true friends are, that mistakes are often the path to brilliance, that stories don't have to be told with words, and most importantly that there is always room for improvement."