Lions sack the Packers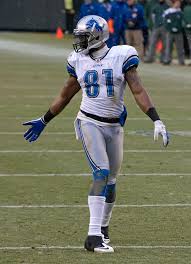 For the first time since 1991, the Detroit Lions have beaten NFC North division rival Green Bay Packers at Lambeau Field.
The game was a defensive affair for the most part. The Packers got on the scoreboard early with the only points of the first quarter with a field goal from Mason Crosby.
The second quarter remained 3-0 Packers until a Lions field goal evened the score at 3-3 going into the half.
The momentum shifted towards the Lions on the first play of the third quarter, when rookie Ameer Abdullah returned the kickoff 104 yards to the 1 yard line to set up a touchdown pass from Matthew Stafford to Brandon Pettigrew. Matt Prater missed the point after attempt, making the score 9-3 Lions.
The fourth quarter would prove to be a nailbiter. Prater added another field goal early in the period, making the score 12-3 Lions. However, the Packers would soon respond with a touchdown of their own, making it 12-10 Lions. Matthew Stafford and company would answer with another touchdown, this time to Lance Moore. Prater would again miss the extra point, making the score 18-10 Lions and keeping the game at a one score difference. The Packers would drive down the field again and score, but fail on  the 2-point conversion attempt, keeping the Lions in the lead 18-16. On the ensuing kickoff, the Packers would recover the onside kick and work their way into field goal range. Packers kicker Mason Crosby would miss what would have been the game winning kick and the Lions held on to win, 18-16.
For many Lions fans, this accomplishment has been a joyous moment in an otherwise lackluster season.
"It is really cool," says junior Terry Jackson. "The last time they won there was 8 years before I was born."
Even with the impressive victory, the Lions have still been a disappointment for much of the season. Going into a hostile environment and getting only the second win of the season against a good Green Bay team has many fans at Howell confused.
"Being a Lions fan definitely has its ups and downs, mostly downs though,"  junior Logan Russo says.
"They looked like an entirely different team,"  Jackson says. "The defensive line really did a nice job of throwing their hands, breathing, having a plan and escaping their man."
Many students have a unique memory of the game, whether it has to do with what they were doing, eating, or who they were with.
"I distinctly remember the excitement and watching with my family," junior John Kuzmich says. "I also lost in fantasy because Mason Crosby missed for the Packers."
"I started to cry when I heard the news that Calvin dropped the onside boot. I told my grandpa, he wept. We hugged in our tree blind where only the leaves could hear our whimpers," Russo says. "But when we heard about the win we jumped with joy. My grandpa held me as I held him our tears of distress turned to tears or happiness. I was happy."