A school divided
State university rivalries cause trash talk
By Staff Writer: James Edwards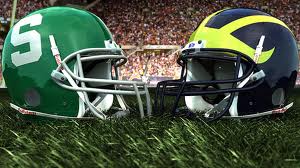 Howell High School is located halfway between the towns of Ann Arbor and East Lansing, both college towns, both home to powerhouse collegiate athletic programs. This makes for an interesting story for the sports fans who call Howell home.
This past week the University of Michigan men's basketball team traveled to East Lansing to take on the Michigan State Spartans at the Breslin Center. They renewed a decades-long bitter rivalry between the schools. In the days before the game, you could see Howell High School's teens trashing each other's favorite university. On game day it seemed as though time slipped into slow motion: every single kid at Howell High tuned in to watch the game to see if their team supported what their fans had been saying for the past few weeks.
I will tell you right now – there is nothing in the world I'd rather be doing on a Saturday night than watching my oh-so beloved Wolverines take on the evil empire from the other side of the state. This matchup was all it was cracked out to be.
The game itself is not the reason I'm writing this story though. However, if you really want to know, my Wolverines smacked the Spartans.
Back to the point, kids at Howell High can be just downright nasty to each other about this rivalry. Some kids at our school just don't understand it, but when you are raised to hate the other school, it almost feels like second nature to defend your favorite institution at all costs. When your team wins, it is just that much sweeter coming to school the next day to smack talk and act like you knew what you were talking about the whole time.
You can walk into a lot of classrooms at Howell and see Spartan or Wolverine apparel scattered throughout the class, sometimes even the teacher is sporting Blue or Green. I know I feel like I can relate to a teacher who is a Michigan fan a lot more easily than I can to a Spartan. Let me tell you, it takes some time for me to trust a Spartan.
I'm friends with many Spartan fans, and I love some of them dearly, but on game day, whether it is football, basketball, field hockey, or volleyball, I can be known to forget what their names are, and I know they feel the same way about me, and I just love it. Maybe it's just me being a dude, I don't know, but don't get me wrong. There are some lovely ladies out there who aren't afraid to give me a piece of their mind about how much they dislike the school in Ann Arbor.
The bitter hatred travels farther than the walls of Howell High though. Go on Twitter or Facebook, or head downtown Howell and feel the bad blood in the air. Minutes before and after a game, you will undoubtedly see a timeline full of fans bashing each other and their respective school. It is really disappointing when you are on the receiving end of the bashing, but nothing is better in the world when you can deliver the criticism.
There will always be one constant though. After the game, there will be excuses from the fans as to why their team lost. The fans act like they know everything that went through the players' and coaches' minds on the court or on the field, when they know they have and may never have a direct impact on the outcome of the game. I don't know, but that is just always the funniest part to me. It seems like no fan can lose with class. There is always a reason why, and in their minds, there is no way that their team can lose next time.
That is how Howell High students, including myself, will act prior and after a Michigan and Michigan State matchup. I hope that reading this will prompt you to check out the social media websites and the trash talking between high school students before and after their next matchup. I know I will.