Seniors named HHS prom king and queen
Senior finds being true to self brings rewards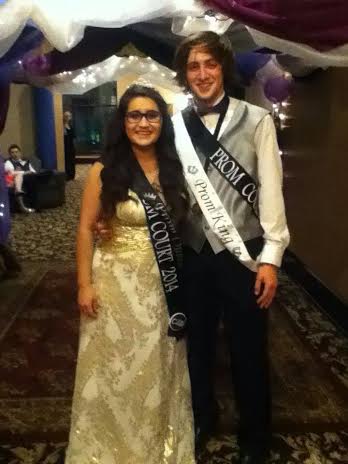 Jackie Dobbie, class of 2014's prom queen, had a little bit more of an eventful night than the average senior at  prom. Not only does she bring light to the school but she is a powerful figure to Howell High School's student body.
Dobbie, originally from South Lyon, moved to Howell in seventh grade where her middle school experience was far from pleasant.
"I didn't fit in and nobody liked me. Not only was I the new kid, but I didn't dress like everyone else. I didn't wear the skinniest jeans and the type of clothes middle-schoolers were supposed to wear, so people made fun of me a lot for that. I was always targeted for something I wasn't doing correctly," says Dobbie.
In result to her indifferences a group of girls who didn't take to her, took the action of physically assaulting her. From that point on, her junior high was nothing but a downhill slope— never feeling like she truly belonged. Once high school began, Dobbie began to be accepted a little more until she came out as bisexual. Junior year was a great year where she personally began to accept who she was and came to the realization that she was a lesbian. She began to stop pretending to like things that held no interest to her. This carried out into her senior year which she described as a complete 180 turn from her ninth grade experience.
"I have grown so much as a person. I am real. I know more about who I am and I'm not going to hide who I am on the inside anymore. High school is just a roller coaster, for all of us, but it's a good learning experience. It's four years of a good life lesson," describes Dobbie.
Dobbie describes senior year as a year to find oneself and plan for the future. For her personally, she learned more about responsibility than ever. She pays for her own gas and car from her job earnings at Taco Bell.
"We have to grow up, it's a part of life. Just don't lose yourself on the way," she shares.
For Dobbie's future, she plans to take a year off and find herself even more, to explore every piece of who she truly is.
"Obviously I'm a sister, a daughter, a Taco Bell employee" Dobbie chuckled, "but I know there is so much more to me that I have yet to tap into."
Eventually, she will major in business because she loves people and enjoys working with them. She also wants to minor in theatre.
Drama is something Dobbie thoroughly enjoys and it has played a big role in her four years at HHS. It is a subject she is talented in — taking on a character's life and interpreting it to an audience for their enjoyment is rewarding to her. Along with drama, she also likes to dance. She was told she was good at a middle school dance and that one compliment is what sparked her passion for it. Having never taken a dance class, she taught herself by watching music videos. She would mimic moves and combinations then mix and match them with different songs, beats, and rhythms. Dobbie loves to dance and is proud of how far she has come with no instruction at all. She does what she loves with no fear of judgment. If it makes her happy, there is nothing that can get in the way of pursuing it.
This year, Dobbie pursued the role of being a candidate for Senior Survivor. When she applied for Senior Survivor she wanted to make it far into the competition because she wanted to show people that it's okay to be different. This was the perfect opportunity for her to do this. She wanted to help kids that are having a difficult time in school.
"When I got in, a lot of people started adding me on Facebook and following me on Twitter and that was really cool. I wanted to be that role model. In middle school and beginning of high school, it's basically dog eat dog. It seems like you have to fend for yourself. You make friends, lose friends, but that's okay and perfectly normal, it's all a part of the process. Just be yourself and be real. Even though I didn't win, I had all these new followers who would be reading my posts and at least I could maybe reach out to people in that way."
A few days after Senior Survivor, Dobbie was nominated to be on prom court. She was overwhelmed with excitement. To be singled out from her class of about 800 students was an honor. For her, this was just another opportunity to show people that it's okay to be yourself. The night of prom, when king and queen were about to be announced she did not expect to hear her name. Her and her partner, Austin Boyd, thought they would be runners-up.
"When Austin Boyd's name was called I was in complete shock and when my name was called, my first instinct was to cry, tears everywhere. I was bawling my eyes out and everyone was going crazy! I can't even describe how ecstatic I was or the emotions going through me at the time. I remember the crowd, the lights, Austin's face, how happy we were. It was surreal."
Dobbie and Boyd were not the only ones excited about representing their school. The students voted and were extremely happy with the outcome.
"I believe Jackie deserved prom queen because she shows it's okay to be different. She shows that being yourself can take you to the top. She gives kids who aren't popular, who are afraid of showing their true colors, a little more confidence. She deserved the title of prom queen because she's a girl who never thought she could do it and she did," said senior Alyssa Franc.
Despite the fun, Dobbie said prom was a scary goodbye. It was a big realization that her six years together with these people are over. Through the ups and the downs it has been a challenge that she has overcome and is proud of the path she took. Now it is time for the real world.
Congratulations to humble HHS Prom King!
By News Editor: Kayla McClain
On Saturday, May 3, most seniors of Howell High School spent their time at Crystal Gardens Banquet Hall for Prom. As Prom is a night to remember, senior Austin Boyd will definitely remember his unexpected experience by winning the title of Prom King.
"It was pretty cool, and being on prom court was unbelievable. I never thought that would happen, and being King was pretty awesome," Boyd says.
Boyd was surprised by the results because he thought his competitors, Zach Noonan,Ben Calandrino,Beau Godkin, or Tanner Damaske, would take the honor. When it turned out to be him, he was speechless.
"It was extremely surprising because I was up against, you know, Boe, Ben, Tanner, and Zach, and I was happy to just be nominated and everything," Boyd says.
Boyd has been involved in drama and choir throughout his high school career, and is currently in A cappella, Advanced Drama, and also teaches Drama II. He believes that being a part of the performing arts department influenced his chances of winning.
"I think that definitely had a huge role, at least Drama, because it made me a little more outgoing, and I wouldn't have people skills to go out and know so many people," Boyd says. "The only reason I won is because I know people in all different groups all over the school."
This humble student also recognizes HHS's Prom Queen, Jackie Dobbie, who happens to be good friends with Boyd. By his enthusiasm, he was even more excited for her to receive the high honor.
"I just love her, I'm so happy that she won," Boyd says. "She's always talks about how she wants people to like her, but she's afraid people don't. She needed something like that, for people to say, 'we really love you'."
As for the rest of the night, Boyd had a fantastic time. Going through the elegant halls, eating a full course meal, and dancing to the party music is enough to tire anyone. Being Prom King was no exception, but was certainly grateful he went.
"I left early because I was just really tired, but it was kind of what I expected from Prom," Boyd says. "Food, dancing, and it was a really fun time. Everybody was in a good mood and there was no drama. Most dances, there is drama, but this was really good."
Nearing the end of high school, Boyd plans on working during the summer, and will be studying nursing at Western Michigan University in the fall. Shockingly, he is not pursuing his passion of theatre.
"I really wanted to go into a theatre program, but there's not really a huge career at the end of that tunnel," Boyd explains. "So, I definitely will do a lot of shows. I'll do community theatre here and there. I'll definitely still come back here, just not professional theatre."
For underclassmen, some may think Prom is not worth going to, but Boyd begs to differ. Not only is Boyd ending his senior year with a bang, but he encourages everyone else to do the same.
"The reason all the parents tell you is because, especially Howell, you only have one Prom. If you don't go, you'll always regret [it] and wonder what could have been," Boyd expresses. "Also, it was so much fun because it was a way to end an amazing school career."
Boyd happened to go to the dance with his friend back from sixth grade, which was his ideal way to reunite and wrap up the year.
"It was awesome because it was a nice little ending of school. It's just a great way to end high school, middle school, elementary. It was like a fun little goodbye," Boyd says.
Although it will be pleasant for Boyd to look back on years past and know he had been King, high school was not always a celebration. Boyd's high school career was as challenging as any, but ends on a good note because of the way he lived through what he calls, his "motto". The following is what he believes everyone should consider:
"Just be happy because sadness is completely pointless. You can let yourself be sad for a couple of minutes, but being sad doesn't help anything at all. It brings you down, so you can't do anything. It brings other people down, so they can't really help you after you have been sad for so long. And it does nothing. It's good to feel the emotions sometimes, but being angry, sad, anything other than happy, is pointless. Being happy gets you anything you want. If you're happy, other people are happy. You can do what you want. You can smile and have fun, every single thing you do. If you're sad, everything sucks."
"I'm bummed leaving Howell High School. We are a family no matter what anyone says. We have all been through some really hard times, but we went through them together. We are a family. Thank you for making me your prom queen and allowing me to represent you," Dobbie smiles.