JETS program offers great benefits to school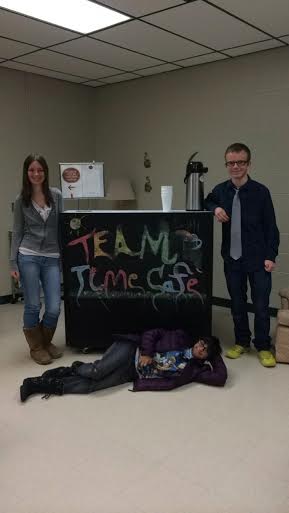 Of the many diverse programs at Howell High School, the JETS program has got to be one of the most unappreciated. No, it's not a program for pilots and flight attendants.  JETS stands for Job Exploration Training. The course, offered through the Special Education Department, helps students apply imperative skills to real-life situations.
Most aren't even aware that this successful program, which has brought so much joy and benevolence even exists or what it does for the school and its students.
The program is aimed to help the students with primarily communication skills, but also teamwork, interview skills, how to fill out job applications and resumes along with some project based skills. They learn how to problem solve and how to work through real life scenarios.
There are two main teachers for the program, Mrs. Carolyn Bishop teaches the juniors and seniors and Mr. David Slaga teaches the freshman and sophomores.
The participants of the JETS learn how to run a business; they run their own cafe by themselves called the Tea Time Cafe. They make muffins, beverages, and run the cafe as if it was their own restaurant. They also shelf books in the library, and unload all the copier paper, and other community activities.
Junior Bella VanMullekom is one of the only current students in the school who gets a first hand experience on how JETS transforms lives. She has an independent study hour where she is able to interact with the JETS program's participants. But for VanMullekom, this class is much more than a credit hour.
"Being a part of this program has made a bigger impact on my life than I thought it ever could. This class is like a big family, it's going to be so sad when the seniors graduate this year. I have gotten close with each individual student," says VanMullekom.
JETS is a class that helps students prepare for what's coming for them in the future. The class of 12 juniors and seniors taught by Mrs. Bishop, are in charge of the school's recycling. They pair up, and use teamwork and direction to complete their task. This along with a variety of other activities is what the JETS program does.
"I love getting to do something new everyday," Mrs. Bishop says.
The JETS program has helped and influenced many people at Howell High School. It has also done so much good for the community of Howell. Although it is not that well recognized, the benefits of the program are outstanding.
"My experience with the JETS program has been really unique. It's really cool to see all the students work together to figure things out and problem solve. I think it's great that they are able to take this class to help them with real life situations. Words can't really describe it," VanMullekom says.