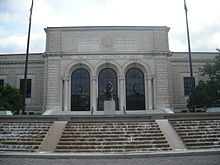 Megan Killop, Business Manager

April 28, 2015
For the very first time, the advanced art classes at Howell High School will be attending a field trip on May 21st to the Detroit Institute of Art. Funds have been raised and donated for the students to get the opportunity to view centuries worth of priceless artwork.

Devery Jakubos, Staff Writer

March 31, 2015
Friday, April 13 the Art and Poetry Day will be taking place. Students from the poetry class and either photography or drawing will combine their ideas into one project over the course of a day.