Art students travel to DIA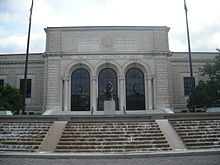 For the very first time, the advanced art classes at Howell High School will be attending a field trip on May 21st to the Detroit Institute of Arts. Funds have been raised and donated for the students to get the opportunity to view centuries worth of priceless artwork.
"Any time you see art, you get inspired by other people's works," art teacher Mrs. Kristina Vlahos says.
The price for the students is $4, and is open to any student in an advanced art class, such as Photography II, Advanced Drawing and Painting, or Advanced Digital Imaging.
Not only does Detroit have the 5th largest art museum in the country, but there are sculptures and photography along with traditional paintings. The institute has over 100 exhibits, and is known for its outstanding diversity.
"Going to the DIA will be a great opportunity for kids who haven't gone and and get to see all these famous art pieces so they can get a new perspective on their own artwork," junior Natalie Jenks says. She is enrolled in Advanced Drawing and Painting, Photography II, and Advanced 3D Design.
At this time, there will also be an exhibit on two famous painters from the early 20th century who were married, and only the Advanced Drawing and Painting class gets to experience that. Their names are Diego Rivera and Frida Kahlo. This once in a lifetime opportunity is very exciting for some students.
"I'm really looking forward to that exhibit because I haven't seen their paintings in person before," Jenks says.
These valuable pieces can benefit the students by giving them a spark of creativity, and give them an enriching experience.
"It's almost like seeing a celebrity, because you see pictures of them [celebrities] but then you get to see them in person!" Jenks says.