Howell bowling ends the season with a strike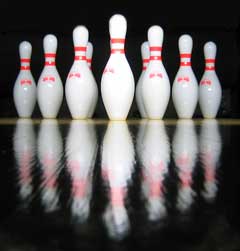 By Sports Editor: Danielle Hamilton
Bowling is a sport that seems to be much overlooked in Howell. These student athletes happen to be one of the best teams at Howell High. The Howell varsity boys bowling team, led by head coach Dave LaFollette, made a playoff run this year that almost resulted in a state championship.
Howell was the final team to qualify for quarterfinals in the state meet. They upset top-seeded Clarkston 1386-1329, which sent them on to the semi-finals.
"Beating the number one seed as the eight seed was a great confidence booster for our team. That might have been the most fun and closest match I have ever been in," says junior Joel Halstead.
Howell lost to Grand Haven by just 28 pins, 1399, 1371. The entire match was close and whoever bowled the best in the final two frames was going to win. Howell put up a fight, but it was not their day.
"It was our coach's last year coaching and all of us decided before regionals that we would give it our best for him," says Halstead, who bowled individual games of 207 and 201 in the quarter and semi-finals. This was the first team in program history to make it to semi-finals in the state tournament, which is really something that LaFollette will be leaving this program with.
The Howell girls varsity bowling team finished 10th in the state, which is an improvement from 16th place last year. The team lost by just 50 pins.
In the individual state tournament, Howell had two competitors. Jack Herndel competed for the boys and Victoria Clawson for the girls. Both Herndel and Clawson gained the 16th and final qualifiying spot in the competition. Herndel qualified by just a single pin, while Clawson qualified by four pins.
Clawson lost in the semi-finals 480-445 to Emily Dietz, who ended up winning the tournament. Herndel fell in the Round of 16. He lost 419-371.
Other than the impressive state run that these two teams had this season, both girls and boys varsity and junior varsity teams placed first in the KLAA (Kensington Lakes Activities Association) West Division. The JV girls team also finished 8th in the state finals at Sunnybrook. JV bowlers Alex Sanford, Lexie Cruse, and Nick Schroeder took medals at Sunnybrook in the single events as well.
"It was a great experience being a part of this team. It was full of very talented kids," says Halstead.