HHS's favorite 2015 Hoco-proposals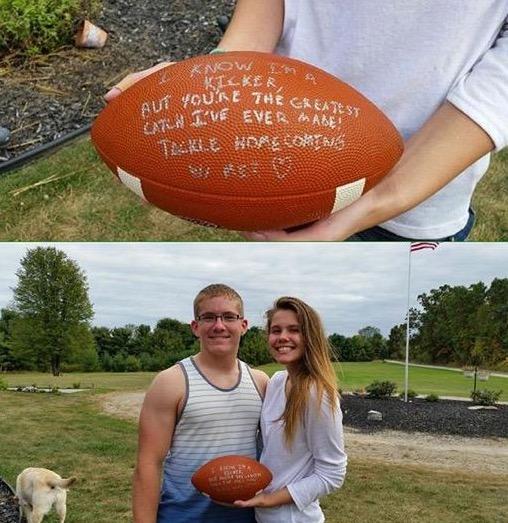 Hang on for a minute...we're trying to find some more stories you might like.
Some would say a high school girl's dream is to be asked to Homecoming in a creative way by their crush. Whether you buy her a simple bouquet of flowers or surprise her in front of the school, she will be impressed with your effort. Here are a few of the Homecoming proposals from the 2015-2016 school year. 
Senior Charlie Petersen surprised junior Taylor Smith with his Homecoming proposal.
"I wasn't really nervous, because I had been thinking of something to do for awhile," Petersen says.
Smith's recent car accident sparked Charlie's idea and he made a simple sign on her car saying, "Will you crash into HC with me?"
Senior Greg Kearns tossed his proposal around with his senior girlfriend, Greta Boyd on the Howell High School football field. Using a football Kearns brought from home, the couple began playing catch.
"I didn't realize what was going on until Greg told me the ball had a weird logo," Boyd says.
The 'weird logo' turned out to be Greg's Homecoming proposal. It read, "I know I'm a kicker, but you're the greatest catch I've ever made! Tackle Homecoming with me?"
Sophomore Jack Radzville had a fishy Homecoming proposal to sophomore girlfriend, Andrea Spisak.
Radzville bought Spisak a fish and flowers and had a sign that read, "Homecoming? Or is this too fishy?!"
"I thought it was very cute," Spisak says.
Senior Christian Foxworthy went under the lights with his proposal to senior Miranda Coen.
"I got the idea because someone did it in my freshmen or sophomore year," Foxworthy says, "I kinda wanted to carry on the tradition."
Foxworthy sure shocked the school with his proposal, having his friends hold signs that spelled out "Homecoming" at the powderpuff game.
Sophomore Bryen Gatt had a "sweet" proposal to sophomore girlfriend, Dannah Janke.
Gatt put together a poster replacing many words with different kinds of candy.
"Being asked to Homecoming in a cute way makes me feel really special and happy," Janke says.
Junior Brendan Raden went the fluffy route on his Homecoming proposal to  junior girlfriend, Veronica Cross.
"There's no bunny else that I would rather take to Homecoming," Raden says. He actually bought Cross a real life bunny.
"I've always wanted a bunny," Cross says.
Besides now owning her favorite animal, Cross was very surprised Raden even put effort into a Homecoming proposal.
"I knew I was already going to go with him, but he surprised me by asking me in a cute way," Cross says.