Behind Closzed Doors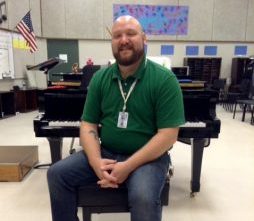 Some students of Howell High School can hear the vocals of the choir floating through the hallway during an average school day. While the HHS choir room was directed by Rod Bushey for the past 44 years, there is a new era beginning.  
Behind the closed choir doors is a man who is keeping the choir vocal. Meet Mr. Brendan Closz; the newest addition to Howell's Choir program.

Mr. Closz's is very excited about his first year directing at HHS choirs. He has previously directed at places all over the state of Michigan, from Detroit to Muskegon, and now Howell. According to Mr. Closz, Howell is different from his previous experiences.
"The amount of pride there is here really shines through the students, and the students are just very happy and down to Earth folks," Mr. Closz says.
His favorite part about teaching here at Howell so far is how committed some of his students are. After only his second day of teaching, Mr. Closz reports that there were students who approached him and asked if they could come in and practice at 6:25 a.m., which really spoke to him. His students are generally at the top of their A-game, and he truly appreciates that.

"I'm very excited to be here, and I'm so proud to be a part of Howell schools in general. I really hope everyone knows how lucky they are to have what they have, because not every school is like this," Mr. Closz says.

Before beginning his directing and teaching career, Closz attended Western Michigan University and taught alongside directors who have influenced him to this day. In college, he worked with a man named Dr. Joan Miller, who taught him how to dive deep into music and learn every detail of each piece. Later on, he learned how to have a pure love for everything that is music from Kimberly Dunn Adams, who currently directs at WMU.
Mr. Closz's parents are also a huge influence on him. His mother was a trained pianist, whilst his father helped form and direct a church choir. Mr. Closz feels very fortunate to have parents like his, knowing that having some of his students don't always have parents who approve of their career choices.
"There's not a lot of parents in the world who would say,'Go for it' when you tell them that you want to be a musician, you know? My parents just said, 'If that's what you want to do, go do it and be the best at it'," Mr. Closz says.
Mr. Closz was raised alongside three brothers, who have all gone to pursue music related careers. Mr. Closz says that he always knew that directing was his passion, although he did attempt to venture into professional singing for awhile. He found that it wasn't his thing, and that it would be too hard on his family if he went down that path.

"For me, singing does something deep in your soul, and it changes who you are for the better, so I want to encourage everyone to try and experience that," Mr. Closz says.

Outside of directing Howell Choirs, Mr. Closz sings with five different ensembles. He has an acapella group that he does gigs with, as well as a group named Measure for Measure that is out of Western Michigan University. He also works as an assistant director for the Livingston County Chorale. Over the summer, Mr. Closz will also take part in youth workshops, wanting to inspire kids to follow their dreams, especially when those dreams are related to music.

"Don't care about what others think and just follow your passion. If you're not following your passion then you're just wasting your time, so think about that," Mr. Closz says.

Mr. Closz clarifies that he does indeed feel that he has to exceed the legacy that was left behind by Howell's previous director, Mr.Rod Bushey, but he does not feel the need to become or act as if he is Mr. Bushey.
"I would be heartbroken if this incredible infrastructure that Rod Bushey built over nearly half of a century just died out. I am very hyper aware of his philosophy, and of how much he loved these kids. This program was his life, this was 40 plus years of his life and I hold that very sacred. I consider it as a great honor to follow in his footsteps, but I don't feel any pressure to be him, I believe that I know what I'm doing here," Mr. Closz says.

Mr.Closz wants to make Howell the standard for high school choral education in Michigan. Mr. Closz says that he will even go to regional and national conventions if it means putting Howell Choirs on the map.

"He's super fun, articulate in what he wants with music, very open with us, and he's extremely creative. It was really nice for him to let us have this opportunity and to carry on with the teaching style we're used to," Nicole Jacquart, a senior who works as a student conductor alongside Mr. Closz, says.
For anyone who is considering joining Howell Choirs, Mr. Closz says just do it. He understands that a group of roughly 280 singers can be a little intimidating at first, but his students are very kind and loving.
"I want to say to any guys who read this that there was a time, not too long ago, when it was incredibly manly to sing. I just want you guys to help redefine what it is to be a young man, and part of that is putting yourself out there," Mr. Closz says.
Mr. Closz would also like to say that just because someone may be a band student, or a football player, or even a journalist, that doesn't mean they can't try being a singer as well.
"Humans are like an awesome Jimmy John's sandwich; there's a lot of layers to that delicious sandwich, and just because you do one thing doesn't mean you can't do another thing," Mr. Closz says.